Necessities - Gabriel Felan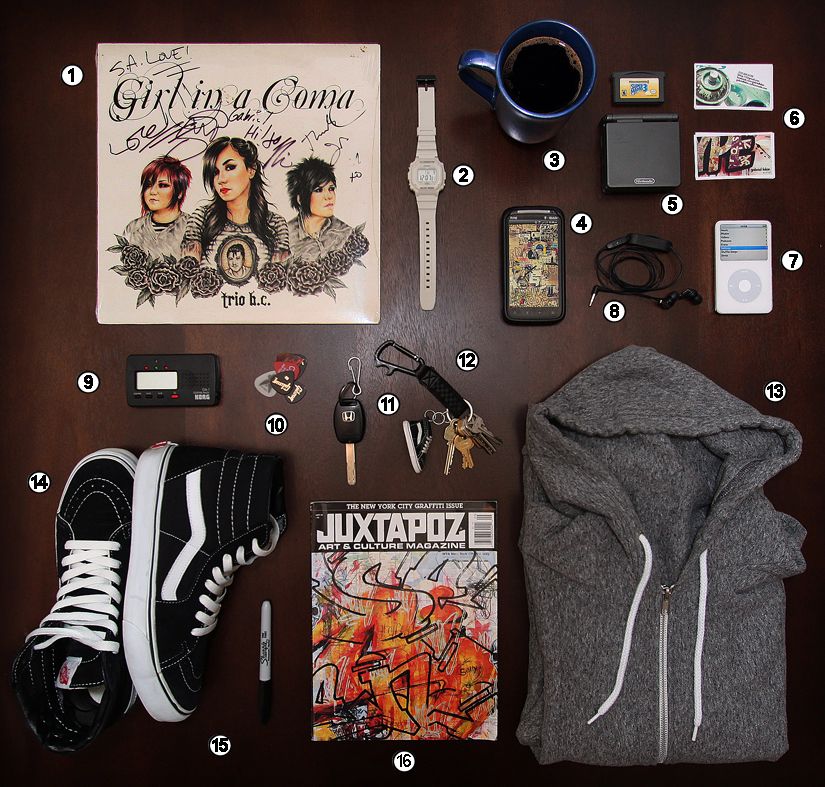 1. Girl In A Coma - "Trio B.C." - If you know me, then you know how much I love GIAC. I managed to have the band sign this LP a few years ago. Excellent album. The artwork is by Shizu Saldamando.
2. Casio F-108WH - Light grey in color, its a good everyday watch minus the price and bulkiness of a G-shock.
3. Coffee - I'm not a morning person. But a good cup of coffee gets my mind in motion. 2 creams, 4 sugars please.
4. HTC Sensation - I love this phone. It has a smooth interface and fast processor.
5. Gameboy Advance SP w/ Super Mario Bros. 3 - The playability of the SP is better than the DS or whatever new crap they have out now. And it never gets old playing arguably the best game ever made.
6. Business Cards - My third card design. You have to catch their eye before they read the info.
7. Apple iPod 5th Gen 30g - From Tribe to Bowie to Glassjaw...It's all in there.
8. Sony MDREX36V headphones - Deep sounding earbuds with volume control.
9. Korg GA-1 tuner - With my guitar coming out of tune often, this always comes in handy.
10. Assorted Picks (medium gauge)- They just feel right.
11. 09 Honda Civic key - I don't know what to say about the key.
12. Vans bottle opener - to pop off Newcastle caps. House and work keys - you know.
13. American Apparel Hoodie - The best fitting, most comfortable hoodie I've ever worn.
14. Vans Sk8-Hi - I've grown to really fall in love with this shoe. It's the essence of classic styling rooted in skateboarding.
15. Sharpie - Markers have come a long way but this is still going to be the best permanent marker around. Sharp lines with a clean stroke.
16. Juxtapoz #92 "The NYC Graffiti Issue" - I have several Juxtapoz mags, but I always find myself looking to this particular issue for inspiration. Profiles include Haze, Quik, Seen, Cope2 and Claw Money to name a few.
- Gabriel Felan