Hyper-realism #5 - Nathan Walsh
A few months back, I started a series called Hyper-realism. I wanted to explore the styles of some of my favorite artist and expose them to my audience. The first 3 were artist were my top 5,4 and 3 favorites. The 4th installment and probably most well known, Chuck Close, was my 2nd favorite artist. And last but not least, my favorite was Nathan Walsh.
Right before publishing the Chuck Close entry I got an email from, of all people, my last, my 5th and favorite hyper-realist painter, Nathan Walsh. Nathan had read my first 3 installments and contacted me just chat about the arts. I was almost star struck. Since then Nathan and I have exchanged many emails including one in questionnaire or interview style which I plan to share with you today.
Nathan's style is almost too much to take in. Large scale, photrealistic city scapes with more than meets the eye details. What takes my attention the most is the fact that there is just as much detail and life in his reflections as there is in the rest of the painting. Infact he almost chooses scenes that have more reflected area than actual just to challenge himself. It proves to his audience that what you view in life is way deeper and that we take the reflected area for granted. More so you start to notice what is behind the reflected area and see what is inside the building. Atleast thats what I can gather. Mind boggling.
From London to Chicago, I barely scratch the surface into that which is Nathan Walsh.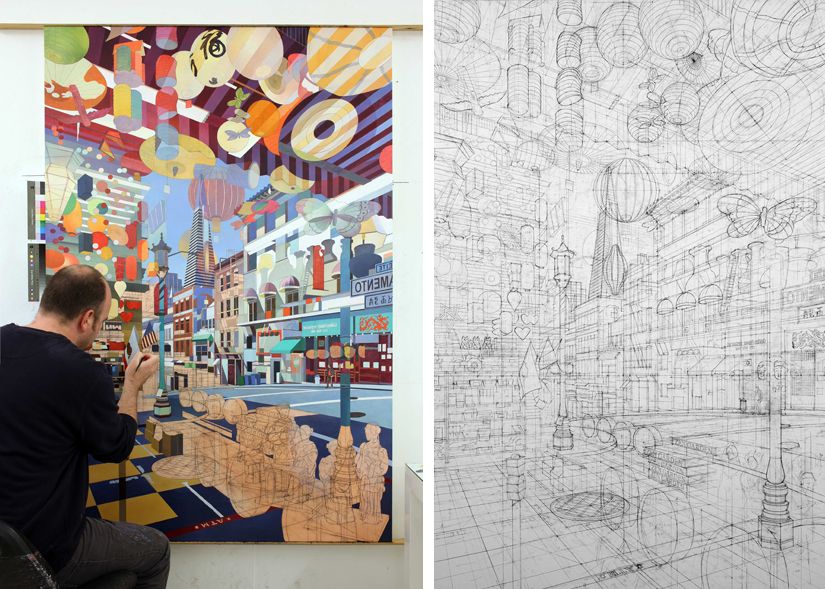 So Nathan, where are you from?
I was born in Lincoln in 1972 but now live and work in York, a historic city in the north of England.
How long have you been painting and what or who got you interested in it?
I've been painting for the past twenty years in various degrees of seriousness. The past five years I have painted full time and earned my living exclusively from it. My father was a photographer who had an active interest in art so I certainly grew up in an environment that was sympathetic to creativity. I can remember there were prints of Van Gogh drawings in the house along with books on the old masters.
When did you sell your first piece that really made you realize you could do this for a living?
It's difficult to pinpoint a moment or particular painting which galvanized my thoughts into thinking I could become a professional artist. It was more a long term process which eventually led me to a point of being able to focus solely on making paintings.
What was the painting of (in detail)? And if I may ask, what did you get for it?
When I completed my first degree I was awarded a prize which constituted a local commercial gallery buying one of my degree show paintings and offering to include me in one of their group shows. The painting was of a pier stretching over a beach. It was rather twee and derivative of the artists I was interested in at that point (Sickert, Degas, Whistler). It sold for £300 ($500) if I remember correctly which seemed like a big deal at the time. I did a number of shows with them over the following two years and the work always sold out. However it didn't really cross my mind that this could turn into a career, that wasn't until significantly later. For the next ten years I was teaching a couple of days a week and painting the rest. I'd been showing in London galleries on and off for a about 5 years without concrete gallery representation, just group shows and the like. More than anything I was trying to develop the work which can take a significant period of time as a realist painter. At this time a gallery sold a painting of mine to an US collector (who I'm still in touch with today) for around £5,000. It was based on a view from a railway station in Manchester and was by far the largest and most refined work I'd made to date. This sale was important as it validated the progress I'd been making and suggested the possibility than I could make a living from my practice. I'm not sure any artist has a career plan as such, of course you've got to be proactive and get your work seen but interesting work normally gets attention by default.
Well you definitely have made a name for yourself. London and now New York? L.A.? Whats next for the immediate future (1-3 years)?
My next exhibition will be a solo show at the Bernarducci Meisel Gallery in New York next November. The paintings will all be based on American cities and should serve as a good introduction to my agenda as an artist. BMG and Louis Meisel are associated directly with photorealist and hyperrealist painting so I will be showing in the right context. Being stood in front of my paintings is a very different and hopefully richer experience than seeing a reproduction, it'll be interesting to see how the work is received. Where things go from that point its hard to tell, I only tend to think from one painting to the next. I spent two weeks in the Far East last month and have got some unexpected and potentially interesting material that could be used for a future project....I spent more time with a sketchbook drawing from life than I have done for a while. I'm interested to see how this might function combining it with the photographic material I gathered.
Last time we spoke, you were in Chicago painting, are you still? How many place and where have you lived and painted over the years?
I'm currently making a painting of Chinatown in San Francisco. It's a reflected street scene which whilst paying homage to the pioneering work of Don Eddy and Tom Blackwell does set explore some new territory for me in terms of subject matter.
I enjoy travelling and almost all of my paintings in the past ten years have been based on these experiences. I find exploring new cities and environments exciting, being presented with new visual cultures and languages is always a good starting point for work. I wouldn't discount making a painting based on my home city but I would have to have a good reason or project to tackle it.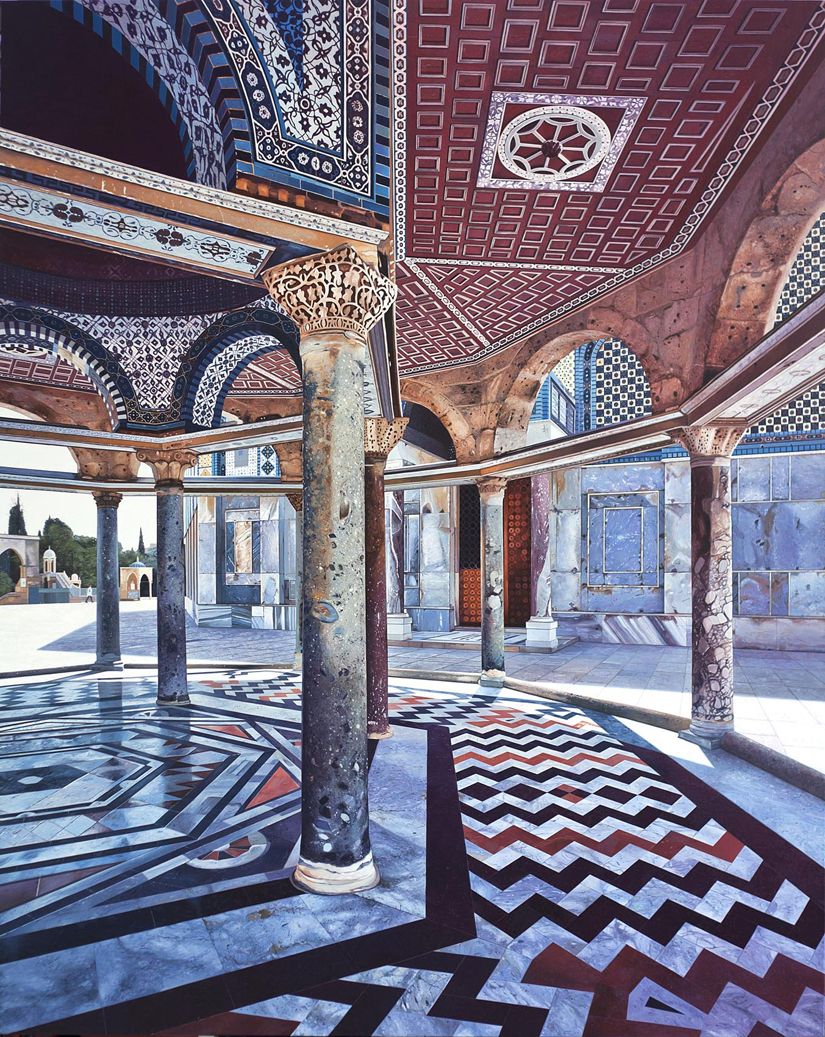 What made you stick with cityscapes? Where do you see yourself moving forward to both in subject matter and medium?
The urban landscape seems to offer unlimited possibilities for me in terms of new work. I like the idea of fixing the chaos and flux present when you walk down a street and creating something new and original from it. In terms of media each painting I make is slightly different and I can't really imagine exhausting the possibilities anytime soon.
So how large are most of these pieces?
The next painting will be of New York on a hot summer's day. It takes in the Flatiron building which is obviously an iconic building but hopefully in an unexpected and surprising way. It'll be in a panoramic format and measure approx 1m x 3m, it has to be that sort of size so the viewer can relate to it as physical object. The others are of a similar height but not as wide.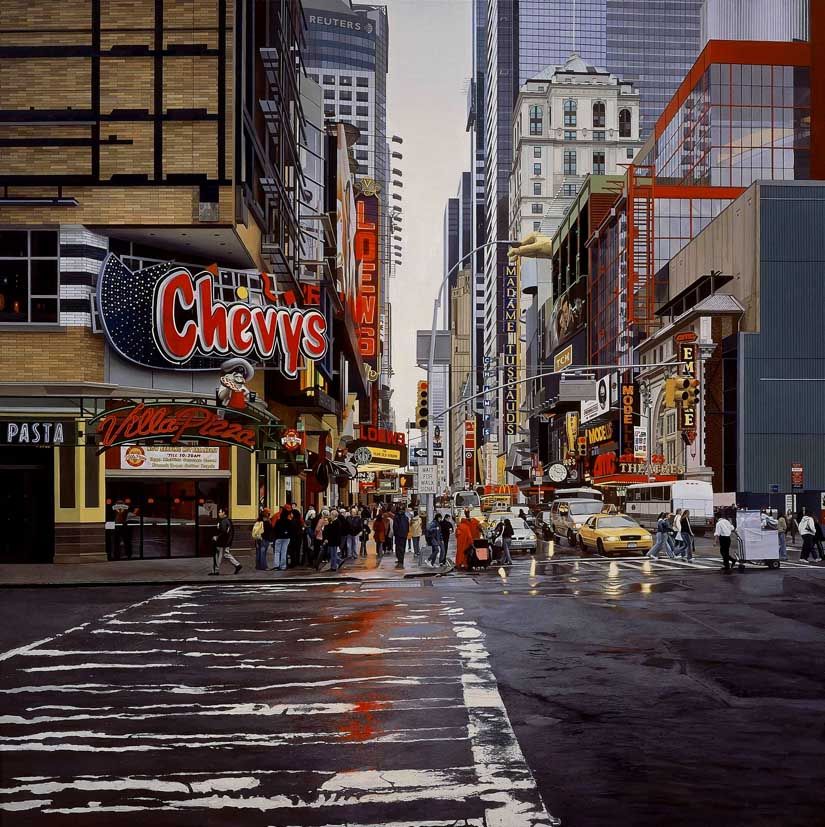 Do you have a favorite piece?
I think the next painting will be the best and normally dismiss anything I've made that's older than 6 months. Not that they're bad paintings, most are competent but I guess you move on all the time.
Have you done any work for any celebrities?
No, I can't say I'm interested in celebrity culture. Whilst I don't know who owns a number of my paintings, I have formed good friendships with a couple of my collectors.
Have you been able to pin point your audience? Do you think about that when you are painting?
I don't really think about my audience, first and foremost I make the work for me. Its my challenge to try and come up with something which is hopefully interesting and ambitious. I do however want to connect with people but that dialogue is a deeper one than a business related arrangement.
What do you over emphasize (if any) in regards to what is and isnt really there in the scene you are painting?
The paintings are all essentially invention. Unlike the first generation of photorealist painters (many of whom I admire deeply) I don't use any kind of mechanical transfer or projection in my work. Everything is drawn freehand from scratch, therefore I make all the decisions about what size or shape a building might be. If a painting becomes too dependent on a mechanical device whether it be camera, projector or software package it ceases to have relevance.
Are there any secrets in your paintings that you add in hidden places? Something like loved ones names or a certain object always in a painting?
Yes apart from the obvious inclusion of myself in paintings I will often include references which relate to my personal life. I could tell you where they are but then they wouldn't be secret!
So do you have any words for any developing artists?
If I were to advise any young artists out there would say keep going, study hard and concentrate on developing your own visual language. You don't have to be the most talented artist or have the most original voice. However you will have to be prepared to work very hard and not be seduced into doing other jobs. And finally trying to make work that you think is going to sell is a mistake, the one thing guaranteed in these cases is the work won't sell. Believe me I've been guilty of this myself and it never works out. If you channel your abilities into a your own unique language then the financial rewards will look after themselves. Certainly when I was an art student there were plenty of young artists with more ability than me but being hungry for something can significantly make up for a lack of talent. We all have to put bread on the table, but if it's at the expense of what's important to you then eventually you will stop making art.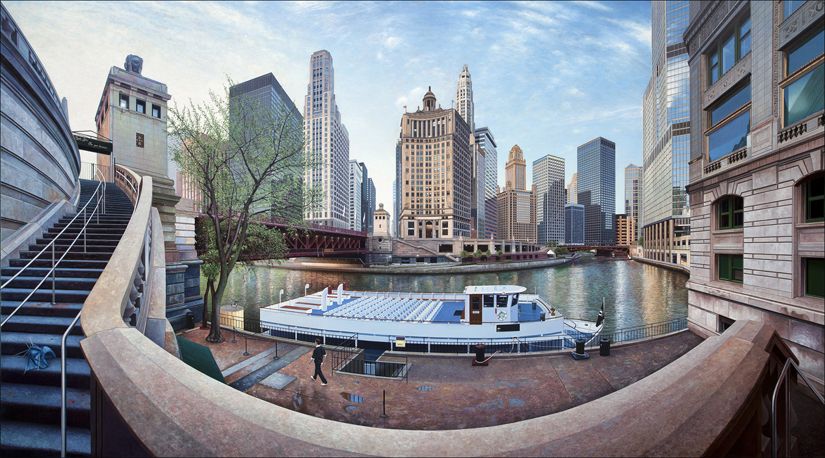 Last words.....
Well I would say come along to the show in November and see what you think. It should be the strongest body of work I've made to date, hopefully each painting will offer a slightly different visual agenda but still stand as a coherent exhibition.