Brian Childers Memorial Dunk Custom
Brian Childers, better known as Nike Tyson in the sneaker community, was a legend. Brian was a successful professional skateboarder and collector of rare and hard to find sneakers. His talents allowed him to travel the world extensively doing what he loved. But sadly, he passed away September 11th of this year. Though I never meet him, he truly was a legend in my eyes and he will be dearly missed by his friends, family member and admirers.
Out of a sign of support and respect, myself and JD Beltran (@jaydeebeeze) decided to make a shoe in his memory for his best friend and fellow collector, Jason Moale (@theinfader). We presented this to him at the SoleCon event in NYC on December 1st which would have been Brian's 40th birthday.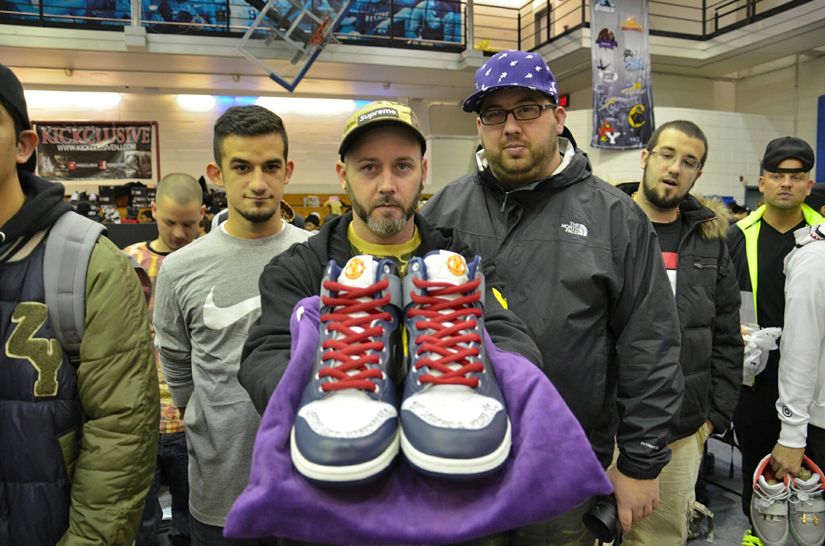 A few notables on the shoe are the tongue tag resembling Brian's favorite soccer team, Manchester United, complete with his full name in the logo. On the heal, I hand painted 2 hanging boxing gloves with "Nike Tyson" on the wrists and his day of birth on the left shoe and the day of his passing on the right shoe. On the toe box, the line "Heroes get remembered, but legends never die!" was hand inscribed and to add that collectors edge, deep red SB laces straight off JD's Iron Maiden dunk samples.
The shoe was made from a 2003 Villanova Dunk that was donated by Mikey Montemayor.